We're off to Las Vegas on Wednesday night. The whole crew will be there, about 18 of us, and I cannot wait. Four nights in Vegas, no work, no responsibilities, all fun.

We're staying at the Tropicana - kickin' it old school. We've got a few things on the agenda; a tournament at the Sahara, perhaps, a visit to MGM Grand, Wynn, and Bellagio poker rooms, dinner and drinks at Rum Jungle, possibly a Heli-ride over the lights of the strip, a trip to old downtown, and other assorted bachelor party type activities.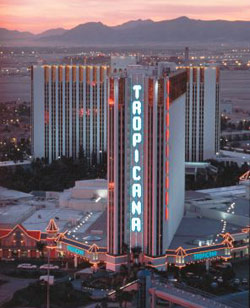 What am I missing? Are there hot spots - clubs, retaurants, poker rooms, or otherwise - that we should visit? Anything to look out for? AnyONE to look out for?